Tether whales account for almost 80% of the current USDT supply, as per data from Santiment
Bitcoin mega whales have accumulated a significant chunk of the cryptocurrency since the last week of December
Data from market behaviour analysis platform Santiment paints a picture of whale domination in the Tether and USD Coin stablecoin markets. It also shows that the number of Tether daily active addresses has crashed to lows last recorded over two years ago.
Tether and USD Coin whale dominance
Tether, the world's largest stablecoin, currently has a market capital closing in on $78 billion (roughly 3.8% of the entire cryptocurrency market capital). Only Bitcoin and Ethereum have a higher market circulating value among crypto tokens and other digital assets.
Tether addresses with a valuation of $1 million and above control 79.98% of the USDT circulating supply as per recent findings by Santiment analysts. This dominance figure has previously gone as high as 80.13%, and the research firm contends that this increased dominance is good for the coin's market.
"Generally, whale #stablecoin addresses increasing their buying power is a good prospect for #crypto's long-term future."
The equivalent whale dominance figure for USD Coin is 86.81%, according to Santiment data. USD Coin, whose market capital is approximately $51.65 billion, is ranked fifth among cryptocurrencies with the largest market cap and is only second to Tether among stablecoins.
Tether daily active addresses have plunged
Meanwhile, the number of daily active addresses on Tether has been falling over time. Earlier today, Santiment shared a tweet detailing that this number has approached its lowest level since February 2020.
"[The] amount of daily active address on its network has quietly fallen to two-year lows, rapidly dropping after mid-November's #Bitcoin #alltimehigh. Historically, we've seen less over #stablecoin transactions coincide with following $BTC rises," on-chain analysts from the firm noted.
Bitcoin mega whales on a brisk accumulation spree
Santiment analysts also observed that Bitcoin addresses holding 1,000+ bitcoins have accrued more than 200,000 bitcoins since the last week of December. This sharp accretion was last witnessed over 125 months ago.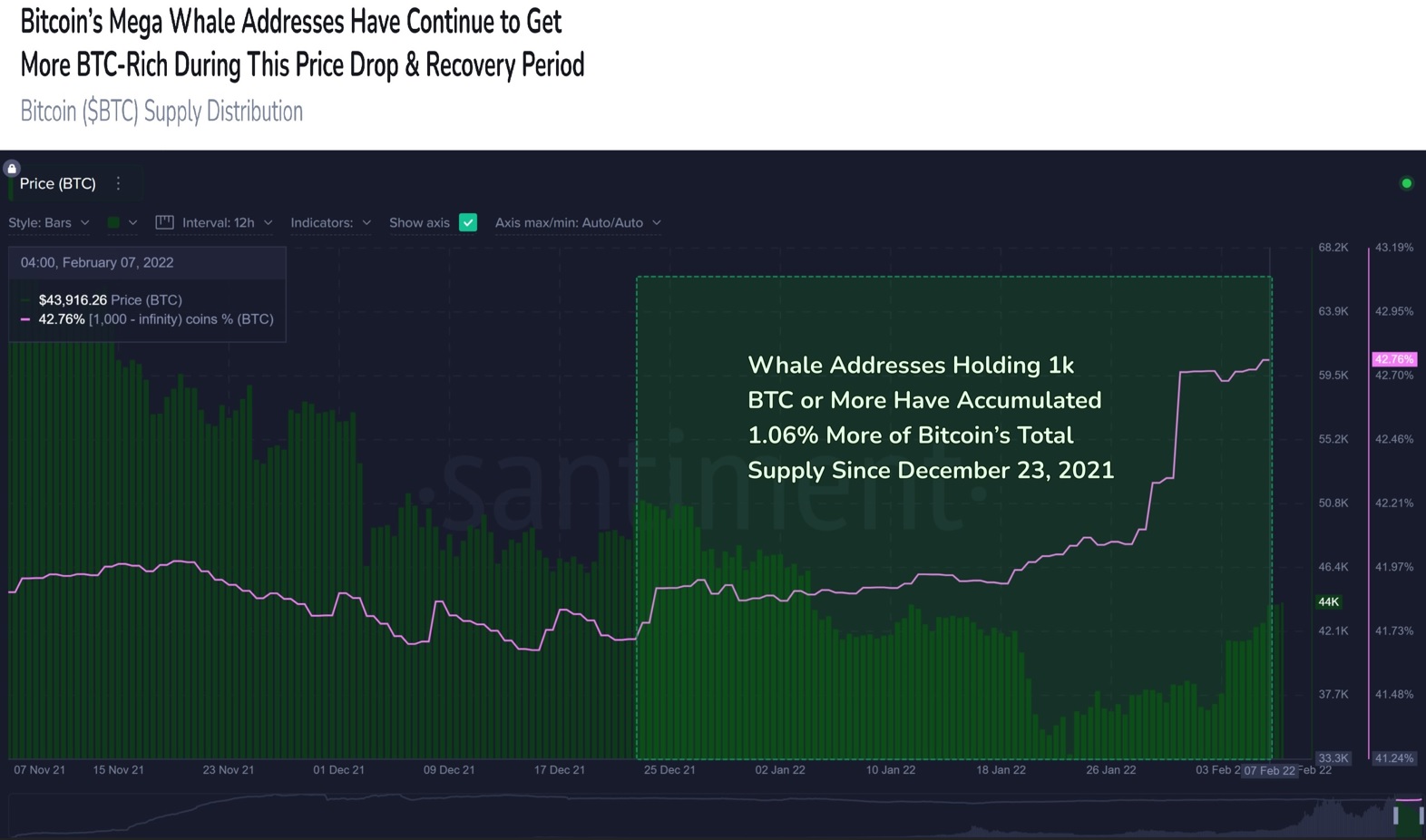 "Mega whales of #Bitcoin have accumulated significantly the past 7 weeks. Addresses with 1,000 $BTC or more have added a combined 220,000 $BTC to their combined wallets since December 23rd, the most rapid accumulation we've seen since September 2019," Santiment wrote.