Elon Musk remains one of the most vocal voices regarding crypto. The billionaire industrialist has built a reputation for being an ardent crypto supporter, and several Elon Musk coins have blown up over the past year.
These Elon Musk coins are especially attractive investments right now, and investors will want to keep an eye out for them.
1. Lucky Block (LBLOCK)
LBLOCK kicks off our list of assets in this roundup. It isn't among the Elon Musk coins, but we included it on this list because investors will do well to add it to their watchlist.
Launched in January 2022, LBLOCK is the platform token for Lucky Block—a blockchain-based gaming platform. Lucky Block is looking to disrupt the online gaming mark, valued at about $230 billion this year. It uses blockchain to ensure fairness and transparency in transactions, and the platform is open to everyone across the world.

Using LBLOCK, Lucky Block players can access the games on the platform; the token works in the place of traditional gaming tickets. The asset was launched on PancakeSwap—a top decentralised exchange—in January at a listing price of $0.00020. Less than a month later, the token hit a high of $0.0096. While its price has dropped and LBLOCK now trades around $0.0041, the coin is still up by over 100% from its listing price.
Investors have a lot to look out for with LBLOCK. The Lucky Block mobile app is expected this month, and the developers have already opened up beta testing for prospective users.
The Lucky Block developers are also launching their inaugural non-fungible token (NFT) collection in a broader marketing campaign. All of this should give the coin some more momentum.
2. Dogecoin (DOGE)
If there's one coin that Elon Musk has become especially famous for being affiliated with, it's Dogecoin. Musk even calls himself the "Dogefather", and he has been an important part of getting DOGE to the place of global appeal that it has now.
Dogecoin's inclusion on the list of Elon Musk coins is a no-brainer. The asset is one of the most valuable coins globally, and it owes a lot of its progress to the Tesla CEO.
This year, there has been a lot of excitement for DOGE and its developers. True to his word, Musk has continued to push the asset as a payment method as he wants to see it go from being just a meme coin to an asset with a use case. His first stop has been accepting DOGE for merch payments at the official Tesla store. Musk has even tried to get McDonald's to follow in his company's footsteps. While the restaurant chain declined, experts believe that other companies will flock to accept DOGE for payments in the future.
Musk has also said that Tesla will open a supercharging store and accept DOGE for payments. We don't know how this will work, but the billionaire has a history of making good on his word as far as DOGE is concerned.

3. Baby Dogecoin (BABYDOGE)
While it styles itself in the manner of the original Dogecoin, BABYDOGE is a different asset entirely. A tweet from Elon Musk inspired it, so it fits the bill as one of the Elon Musk coins.
Among other things, BABYDOGE claims to improve the original DOGE. The asset comes with a hard cap of 420 quadrillion—in contrast to DOGE's unlimited hard cap. BABYDOGE's developers have also claimed that the asset is faster and better suited for everyday transactions while comparatively cheaper.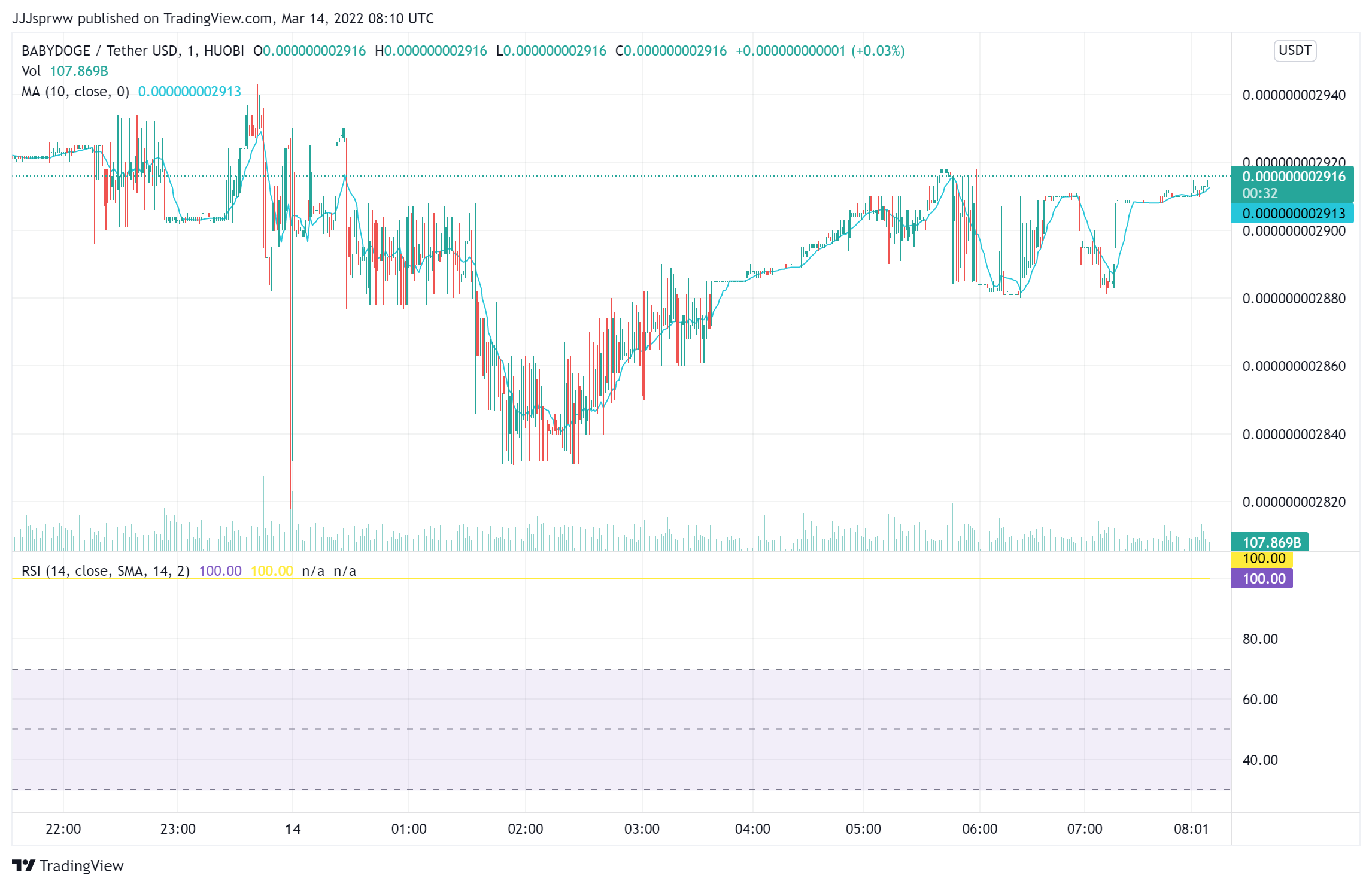 BABYDOGE has been up 0.21% in the past 24 hours, which is better than the broader market. As expected, investors can also purchase it to get ready for gains when the market values start rising.
The BABYDOGE developers are also doing their bit to grow the ecosystem. Weeks ago, they signed a sponsorship deal with TSG Hoffenheim—a football club in Germany's top-flight division—to launch promotional non-fungible tokens (NFTs) for the football club.
4. Dogelon Mars (ELON)
Dogelon Mars is another impressive Elon Musk-based coin that investors should keep an eye out for. It is gunning for the top meme coin title, and it has started getting traction—especially on exchanges.
TELON is available on platforms like Coinex, Huobi, Gemini, Poloniex, and KuCoin. The asset was built in 2021, and it was inspired by Dogecoin, Elon Musk, and Mars—the planet that Musk is hoping to help humanity colonise one day.
ELON currently trades at $0.00000068; this is a respectable jump of 0.3% in the past 24 hours—much better than the broader market, down by 0.58%.
Dogs of Elon (DOE)
If you're looking for the next big meme coin, you should consider Dogs of Elon. The asset is the newest among the Elon musk-based cryptocurrencies, launched in December 2021.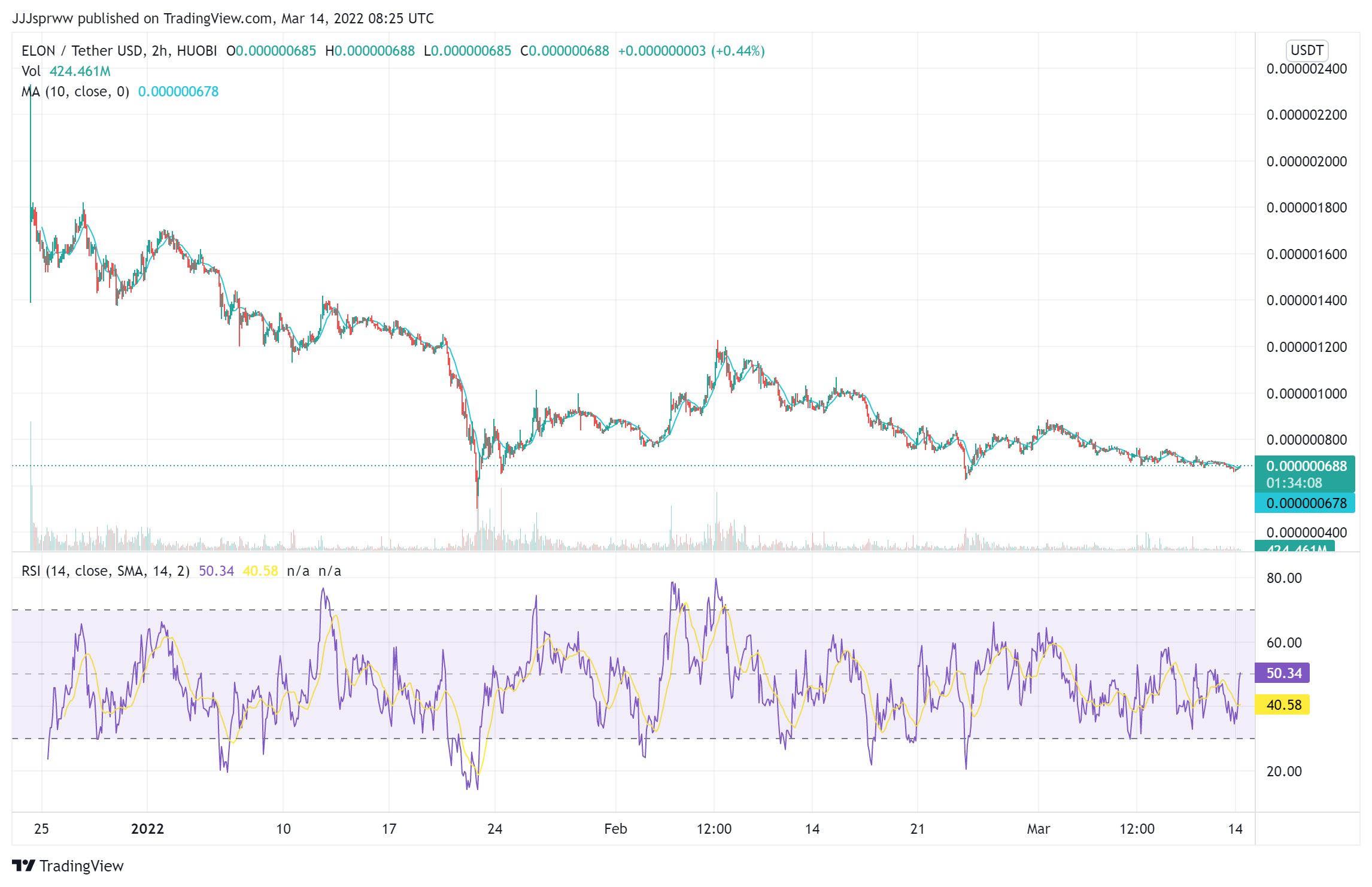 But DOGE isn't just a meme coin; it is tied to an NFT collection also called "Dogs of Elon". The collection includes 10,000 dog-themed NFTs and special sub-collections containing DoE NFTs of 30 unique Elons and 70 zombie Doges.
To be fair, this project is still relatively new. But, with NFTs being a major hit across the crypto space, there's a lot of excitement about it. The community of dog-themed coin enthusiasts is known to show up in large numbers, and you can get on the ground floor of something potentially massive with DOE.
Read More: