The cryptocurrency market has just begun a rebound after a trying week. At $2.4 trillion, its total cap has lifted by 3% in the past few hours. Major coins have risen in line with this, with bitcoin (BTC) up by 3.3% in the past 24 hours and ethereum (ETH) up by 2.8%. Such jumps could signal a significant rally over the weekend and into the New Year. It's for just this eventuality that we've put together a list of the 5 best cryptocurrency to buy for the weekend recovery.
5 Best Cryptocurrency to Buy for the Weekend Recovery
1. Bitcoin (BTC)
BTC's price is standing at $47,586, a 3.3% rise in the last 24 hours. It's also down by 6% in the past week and by 16% in the past month.
BTC's technical indicators show that the cryptocurrency has been on a downswing over the past few days. Its relative strength index (in purple above) has risen to 60, from around 20 only a couple of days. Likewise, its 30-day moving average (in red) appears to have bottom, and may begin overtaking its 200-day average (in blue) soon.
While it shouldn't really need saying, the market is waiting for BTC before it can recover in general. Bitcoin leads rallies and slumps alike, so if you expect a market-wide recovery in the coming days, you should put a chunk of your portfolio in BTC.
Its fundamentals remain as strong as ever, with bitcoin having had a good 2021. It has witnessed investment from Tesla, adoption as legal tender from El Salvador, and remains popular among people struggling with inflation in places like Turkey, Venezuela and Nigeria. It has also seen increasing commercial interest from major banks, setting it up for a good 2022.
Taken together, this is why BTC is one of our 5 best cryptocurrency to buy for the weekend recovery, and beyond.
2. Ethereum (ETH)
ETH is up by 2.8% in the past 24 hours, rising to $3,828. This represents a 7% fall in the past week, and a 17.5% drop in the past month.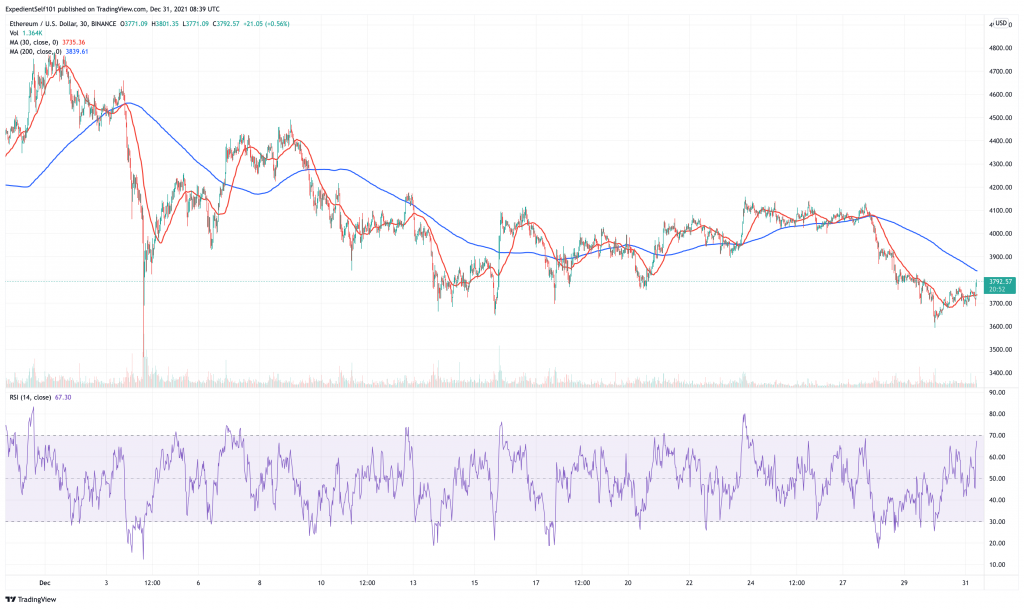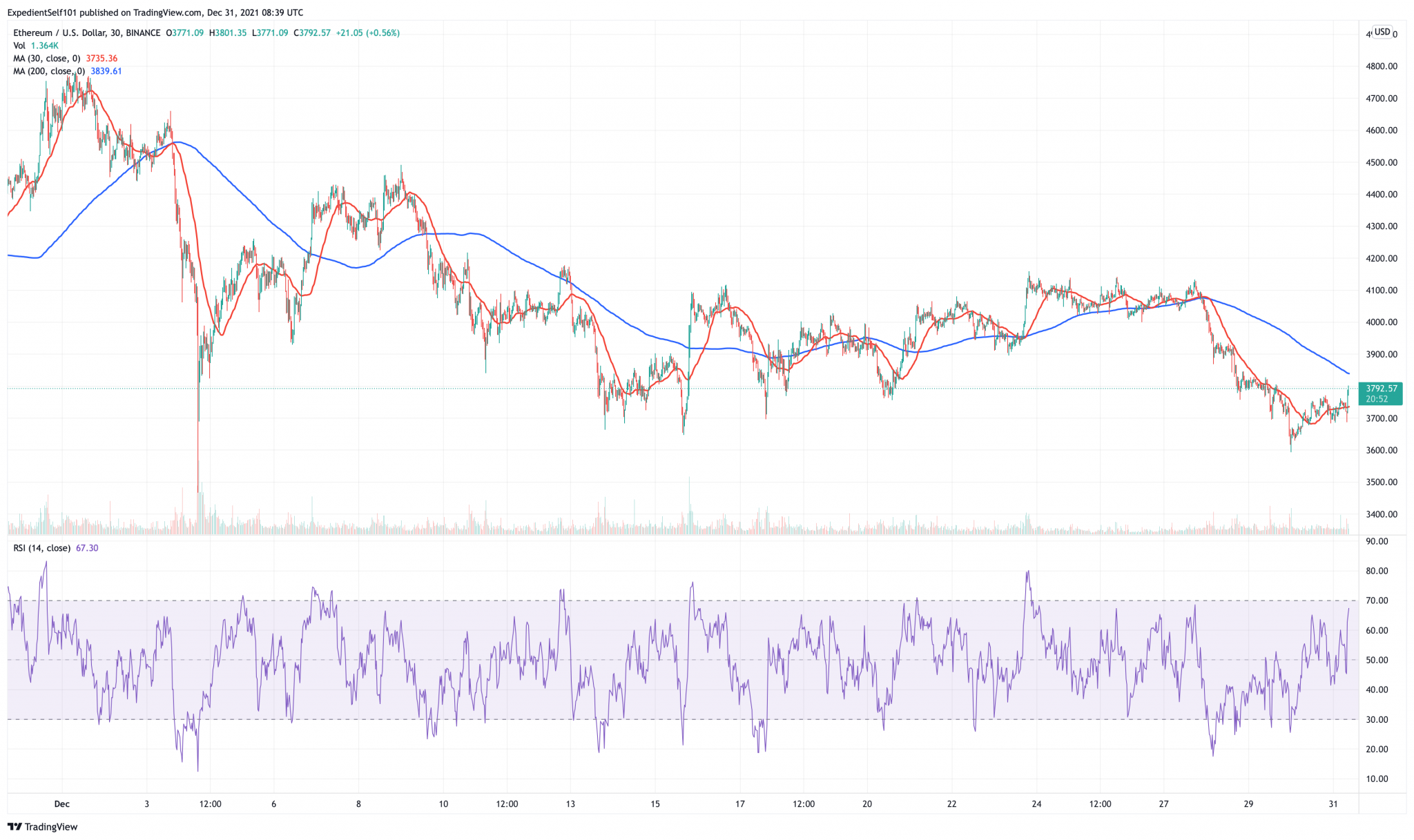 ETH's indicators are eerily similar to bitcoin's. Its RSI has been down for the past couple of days, and was due the surge it's witnessing now. Likewise, its 30-day average has begun rising, potentially with a view to overtaking its 200-day and forming a golden cross.
As with BTC, ETH is easily one of the most fundamentally promising coins in the market. Its 2021 has seen it roll out the London hard fork en route to moving to proof-of-stake at some point next year. This fork has resulted in it burning a portion of is transaction fees, making it borderline deflationary.
Ether holders have regardless benefited from the economic activity taking place on Ethereum.

Since the implementation of EIP-1559, a high percentage of the ETH paid in fees (85% on average) is burnt, effectively removing this supply from inflation pic.twitter.com/hU7MSPu5T1

— IntoTheBlock (@intotheblock) December 18, 2021
At the same time, Ethereum remains the biggest blockchain platform in terms of use and total value locked in. Given the network effects this creates, it's likely to remain the biggest for quite some time. Particularly when the shift to proof-of-stake does improve its scalability and efficiency.
#Ethereum aggregate on-chain volume saw a 36.4% uptick YTD compare to 2020.

As Ethereum remains the leader of TVL in #DeFi protocols, the transactional volume saw a remarkable increase in 2021 with +2.142b $ETH traded, despite the rise of other L1s.https://t.co/DDomrLDxQp pic.twitter.com/npWNpL5OMR

— IntoTheBlock (@intotheblock) December 29, 2021
3. Cosmos (ATOM)
ATOM is having a very good day, rising by 15% in the past 24 hours. At $32.35, it's also up by 13% in the past week, 48% in the past fortnight, and by 17% in the past month.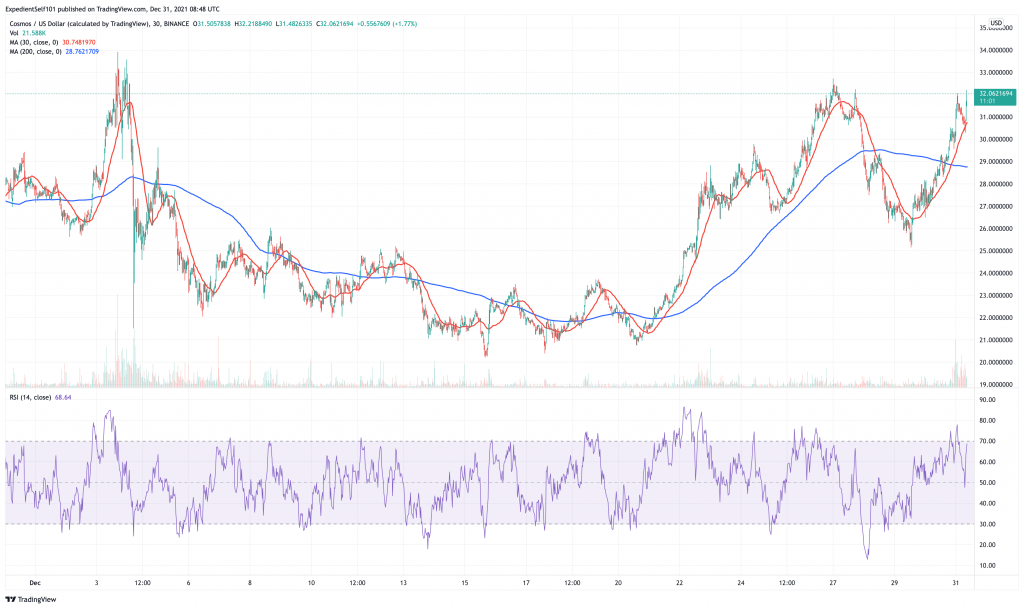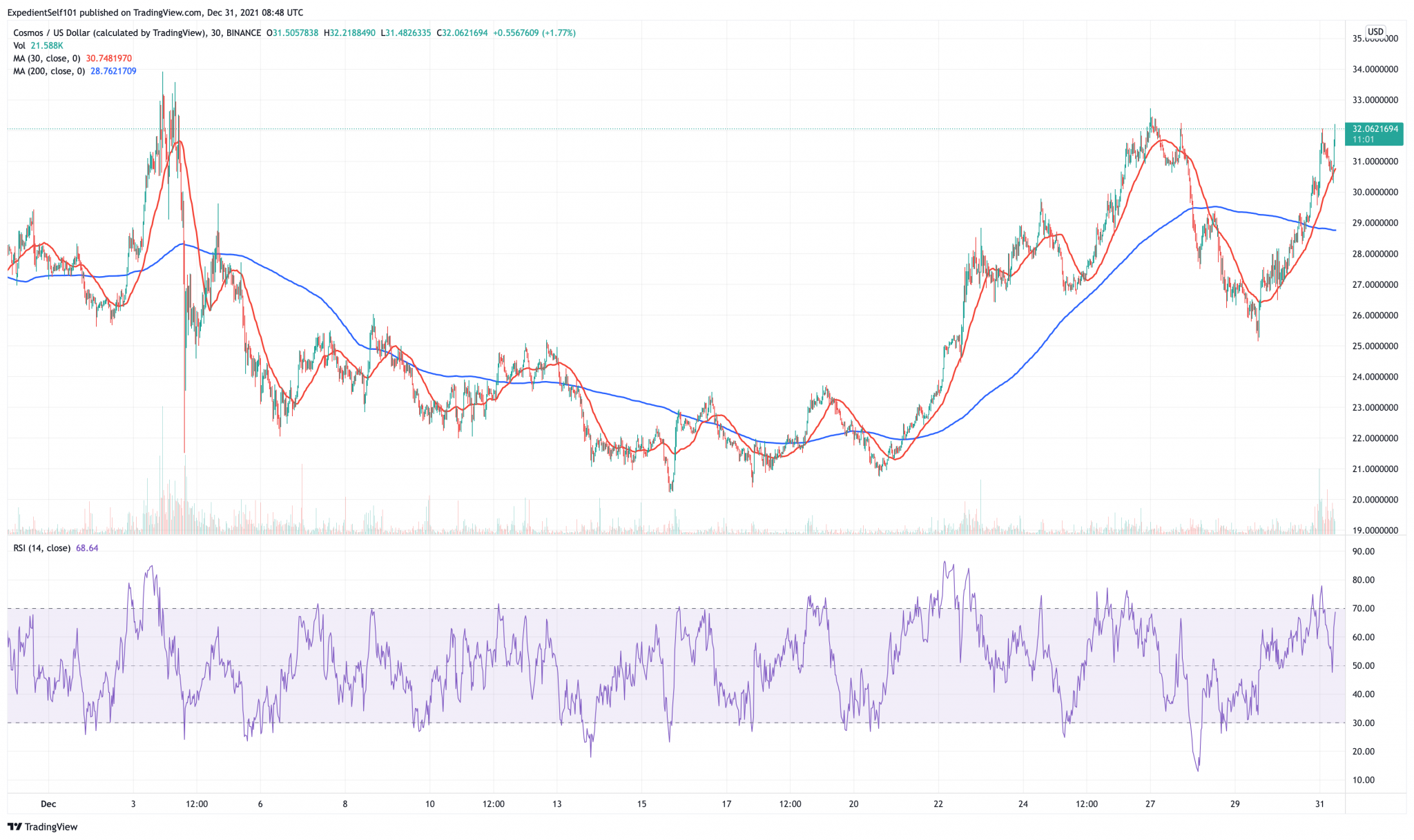 ATOM's indicators show very strong momentum. Its RSI is nearing 70, while its 30-day average shot past its 200-day at some point late last night.
ATOM has had a very good 2021 in general, but one of the reasons its rallying now is the launch of the Gravity Bridge. This is a bridge between the Cosmos 'internet of blockchains' and Ethereum, opening up the Cosmos ecosystem to much greater liquidity. This has got traders excited that Cosmos will now see much greater traffic going forward.

Get Ready Cosmonauts,

The time has come: The @gravity_bridge Chain to #Ethereum is LIVE🎉

Read more about Gravity Bridge Chain… https://t.co/VvhrGq3yLM
…and check the Stats on @mintscanio 👇 https://t.co/24AKcteDnk https://t.co/K2usfYIVmO pic.twitter.com/7AzkhFAyBt

— Cosmos – Internet of Blockchains ⚛️ (@cosmos) December 15, 2021
4. Sushi (SUSHI)
SUSHI has been rising all week, and its ascent continues today. It's up by 15% in the past 24 hours, and by 6% in the past hour. At $10.42, it's also up by 42% in the past week and by 83% in the past fortnight.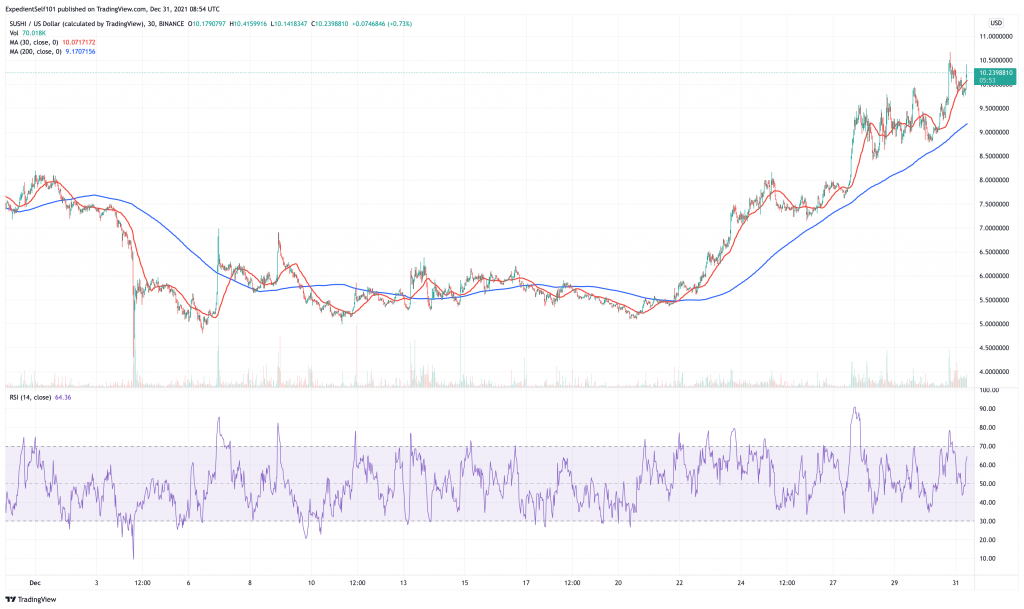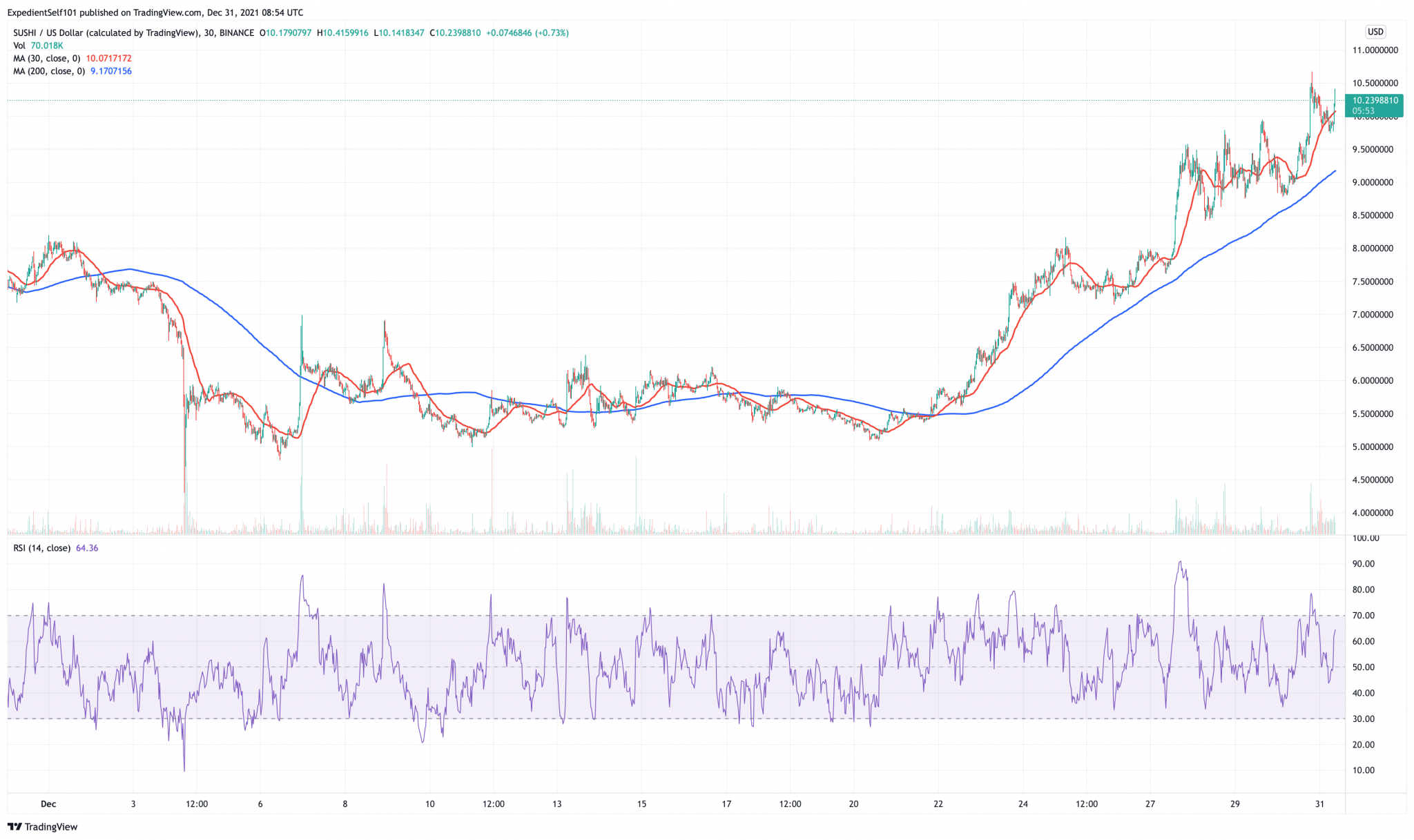 As the chart above shows, SUSHI has been enjoying a significant breakout for just over a week now. But with the coin remaining 55% below the all-time high of $23.38 it set in March, its rally could still continue for a while yet.
As native token of Ethereum-based decentralised exchange SushiSwap, SUSHI has been witnessing growing demand as of late. The exchange platform now has $5.2 billion in total value locked in, up from $4.86 billion only a couple of weeks ago.
Its recent fortunes relate largely to its recovery from an unexpected slump in early December. This came after SushiSwap's CTO, Joseph Delong, resigned as a result of governance conflicts. His departure resulted in SUSHI dropping to $5.11.
Since then, the inevitable recovery has allowed SUSHI to gain serious momentum. This has been helped by the fact that SushiSwap's community has taken numerous active steps to resolve its governance issues.
There are new $SUSHI Governance votes up on https://t.co/etvopWjU0r by @SnapshotLabs$tSUSHI from @TokenReactor should now be eligible for voting. Be sure to claim your @poapxyz after you vote! pic.twitter.com/qWXpzATrVb

— SushiChef (@SushiSwap) December 23, 2021
In addition, SushiSwap continues to welcome new integrations, such as its tie-in with Fuse Network. This is why it's one of our 5 best cryptocurrency to buy for the weekend recovery.
5. The Sandbox (SAND)
SAND is up by 6% in the past 24 hours, hitting a price of $6.21. This represents a 2% fall in the past week, but also a 23% rise in the past fortnight. SAND is down by 8% in the past month, having also fallen from an all-time high of $8.40 on November 25.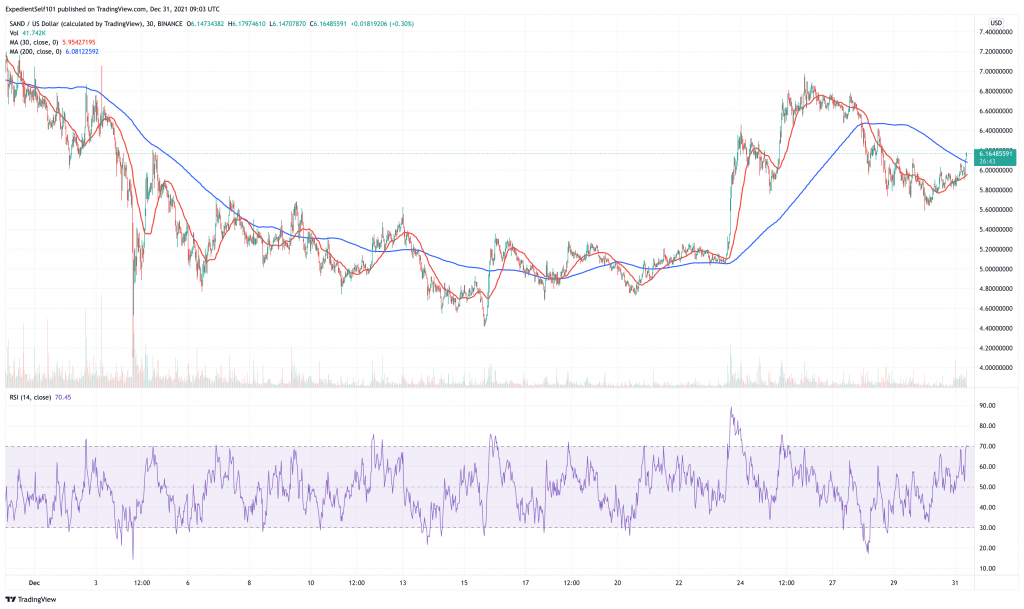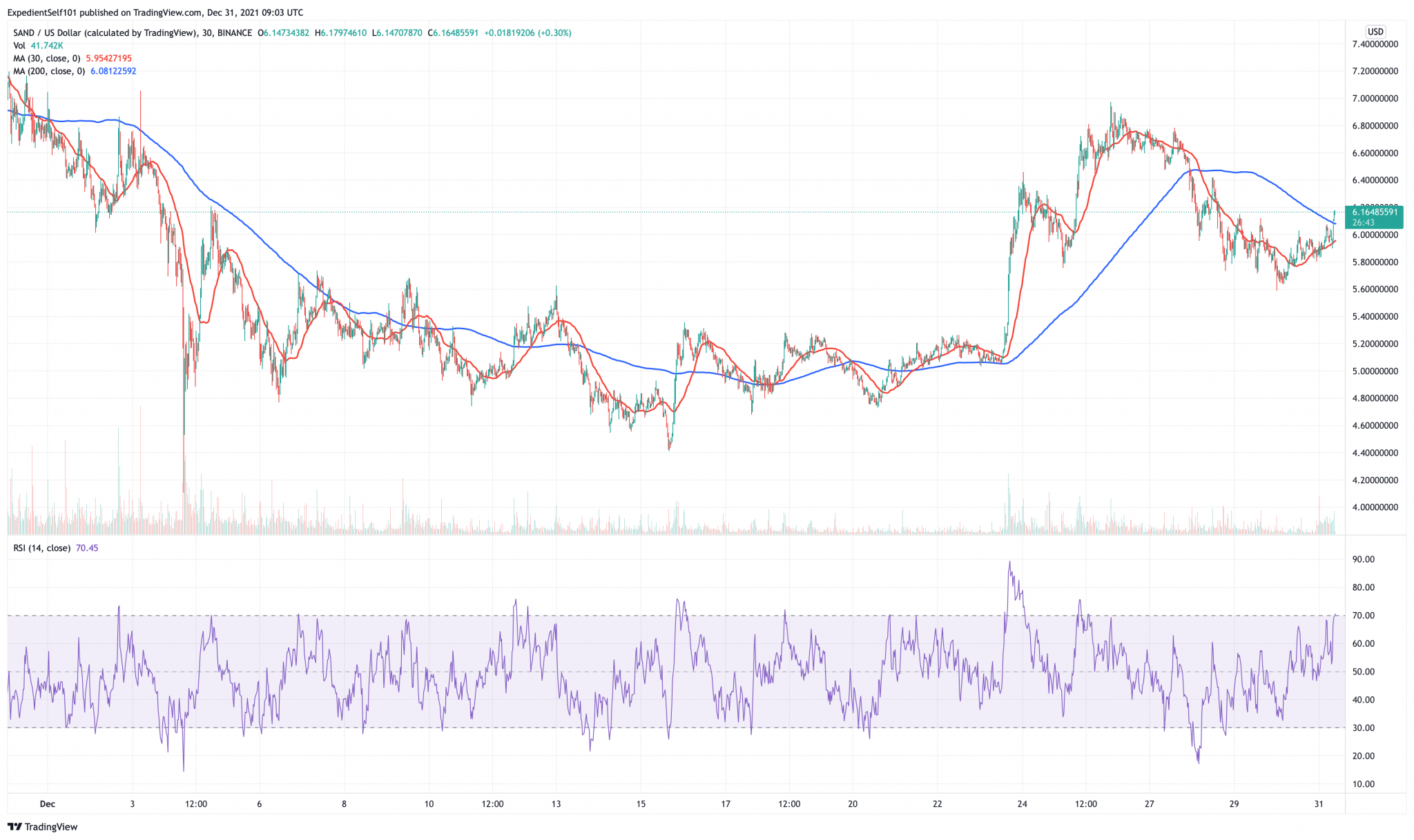 SAND's RSI shows growing momentum. Meanwhile, its 30-day average is very close to overtaking its 200-day, suggesting a possible imminent breakout.
SAND has been one of the best-performing coins of the year. It's the native token of the Sandbox platform, which is an Ethereum-based metaverse and gaming ecosystem. It lets users develop games and metaverse-related experiences, putting it in a prime position to grow in parallel with the growth of the overall metaverse sector. So too does the fact that it raised $93 million from major VC fund SoftBank at the beginning of November.
Since then, the Sandbox has only gone from strength to strength. It sold one plot of land for $4.3 million at the start of December, and racked up $86 million in land sales in the last week of November alone. This is more than any other metaverse-related platform, including its main rival Decentraland.
This definitely makes SAND one of the 5 best cryptocurrency to buy for the weekend recovery.
Capital at risk
Read more: