The crypto market is always ripe with opportunities for investors looking to make money. This is especially true now that coins are seeing impressive jumps in their prices. But, cautious investors would most likely prefer to go for low-risk cryptocurrencies to protect their portfolios. 
Below, we have some of the best coins to watch out for if you're looking for returns but also looking to limit your downside this month. 
1. Lucky Block (LBLOCK)
The first entry on our list of low-risk cryptocurrencies is LBLOCK – the native token for the Lucky Block gaming platform. Lucky Block has been getting a lot of attention lately thanks to its innovative approach to gaming. The platform uses blockchain technology to ensure transparency and fairness in the gambling space, while also offering access to some of the most popular games. 
With LBLOCK, Lucky Block users can gain access to all the content on the Lucy Block site. So, the asset acts as a replacement for traditional playing tickets. LBLOCK was launched in January 2022 on PanckeSwap – one of the biggest decentralized exchanges in the world. LBLOCK was worth  $0.00220 when launched, but it soon rocketed and hit a high of $0.0096 in less than a month. 

Today, LBLOCK trades at $0.0054 – up 1.84% in the past 24 hours. With the market looking to recover again from another down week, this asset will definitely be on many investors' watchlists. 
As for fundamentals, the Lucky Block team has quite a lot in the pipeline. The app for Lucky Block is expected to launch this month, and the developers have already opened beta testing for prospective users.   
Lucky Block is also making an entry into the non-fungible tokens (NFT) space. The developers are launching an NFT collection this month as they hope to reach more people. Coupled with their viral marketing campaigns, there's a lot of momentum with Lucky Block right now.
2. Dogecoin (DOGE)
Dogecoin is the crypto industry's biggest meme coin. The asset is also one of the most valuable coins in the market, so we expect that it will be one of the biggest beneficiaries when the market starts to recover. 
Recently DOGE has been in the doldrums. However, there is a lot of potential for it. Earlier this month, the Dogecoin Foundation announced that they had registered "Dogecoin," "Doge," and their associated logos as trademarks within the European Union. 
The trademarking is part of the Dogecoin Foundation's goal to change the asset's narrative from being a meme coin to a more functional asset. With Tesla accepting the asset as a payment method for official merch, there are signs that this mission is going rather well.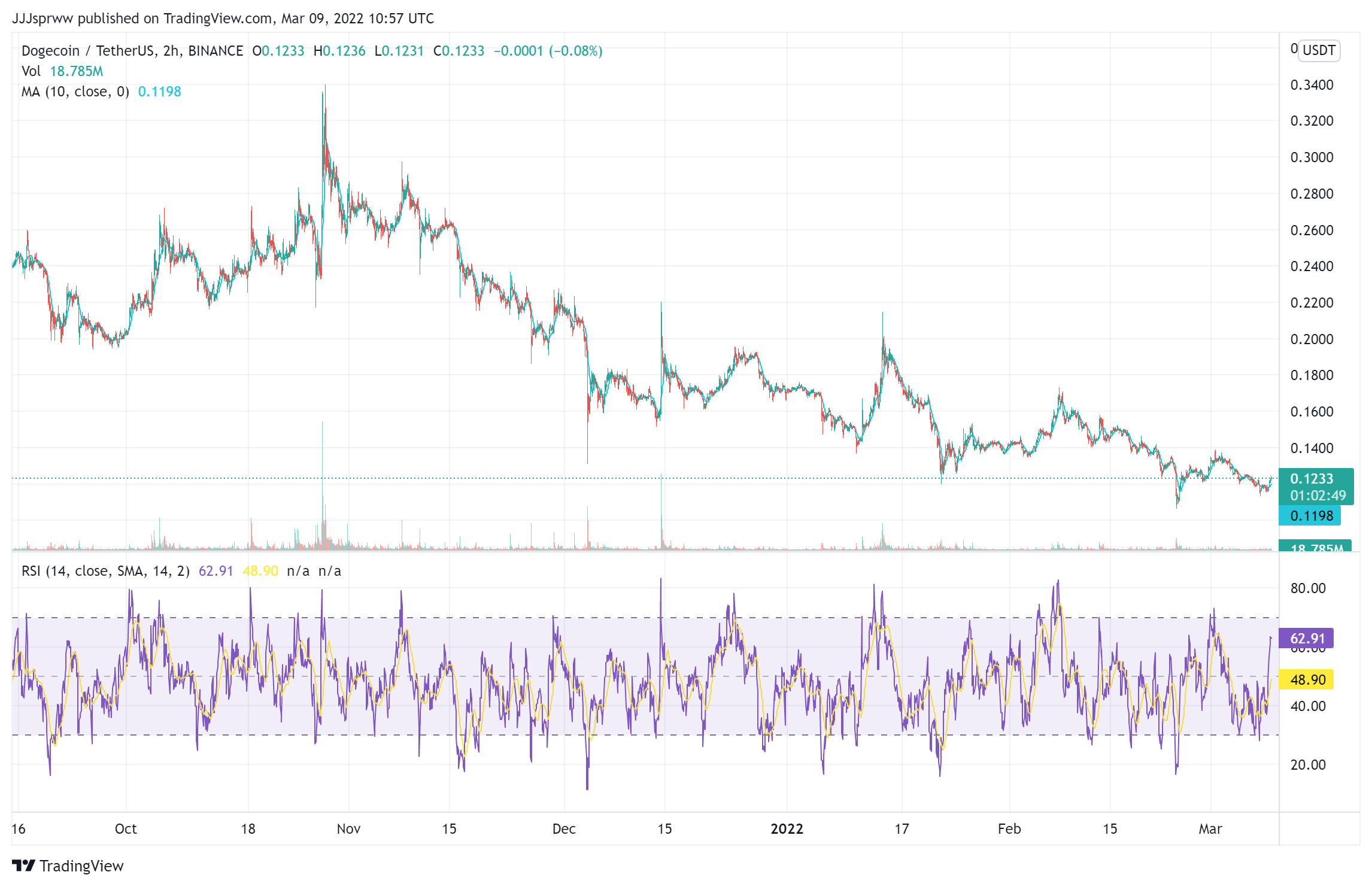 Also, AMC Entertainment CEO Adam Aron has confirmed that they plan to accept DOGE for payments at cinemas very soon. This should blister the asset's use cases even more, paving the way for more growth. 

3. Decentraland (MANA)
Decentraland is one of the biggest metaverse tokens right now. With the metaverse trend, Decentraland's MANA is one of the low-risk cryptocurrencies for many investors to consider. 
Last week, the government of South Korea announced that it would invest about $190 million to develop a national metaverse that will bring all citizens into the virtual world. This shows that the metaverse itself remains a lucrative project. Platforms in this space are expected to grow significantly over time.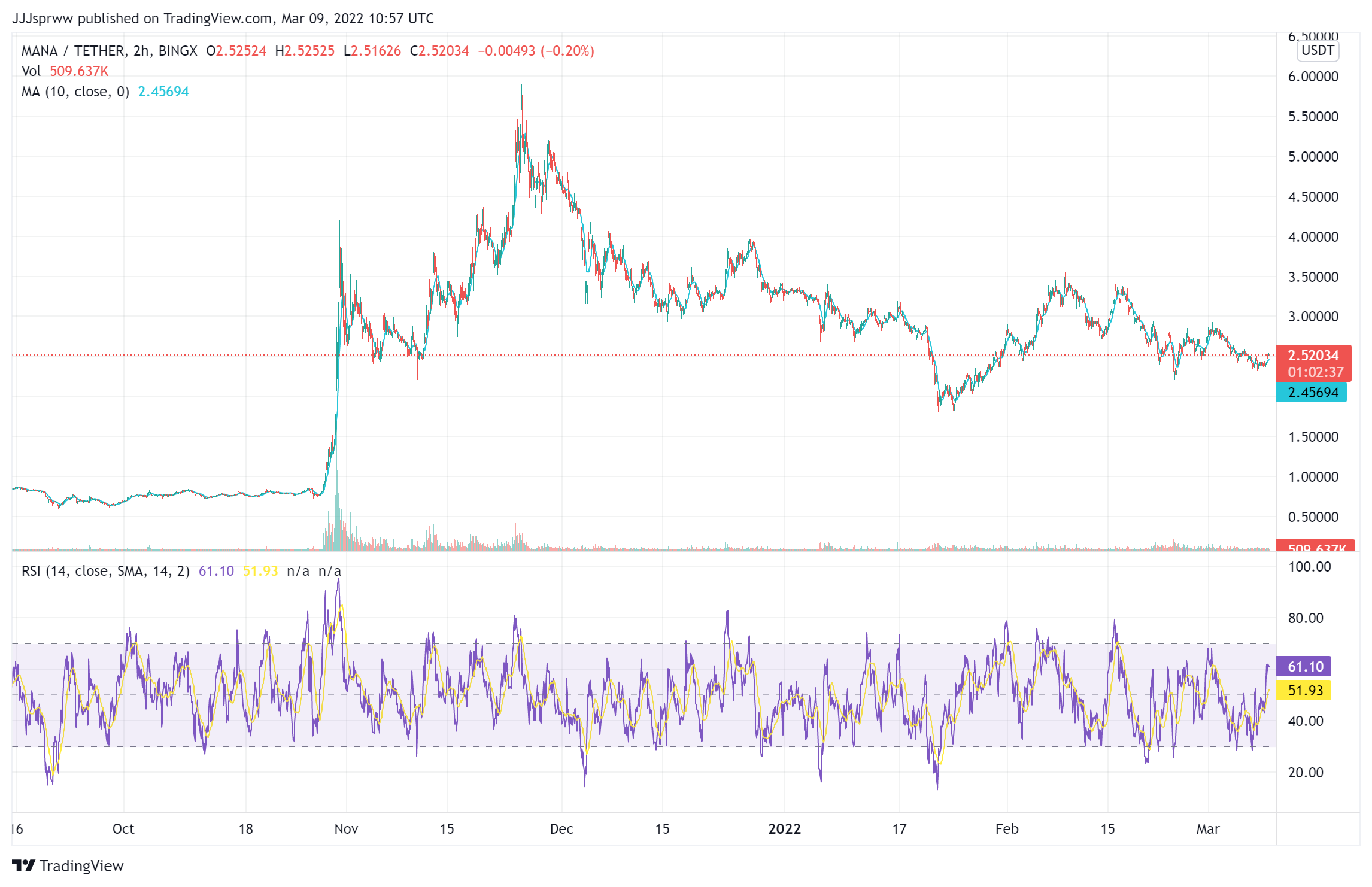 At the same time, Decentraland itself has continued to grow. Banking giant JPMorgan launched its virtual headquarters in the platform last month, and Decentraland has inked several partnerships that will help to retain users.  
4. Terra (LUNA)
LUNA is the native token for Terra – an ecosystem that focuses on building high-quality stablecoins. The asset features on our list of low-risk cryptocurrencies primarily because of its performance in the past few weeks. Despite the market's downturn, LUNA is up by 16% since the start of the year. Compared to most other large-cap coins, this is a very favourable performance. 
LUNA is seen by many investors as the Solana of 2022. SOL delivered almost 10,000% gains last year, and investors believe that we could be in the year of LUNA right now. 
And the fundamentals for LUNA are very strong. In late February, the LUNA Foundation announced that it had raised $1 billion from a group of investors led by Jump Crypto and Three Arrows Capital. They expect to use the funds to strengthen their stablecoin ecosystem and provide greater liquidity.
At the same time, Terra is improving on its platform technicals. Data from Smart Stake revealed that the Terra protocol burned 29 million LUNA tokens in February – worth about $2.8 billion at the moment. With strong token economics and fundamentals, LUNA should be on investors' watchlists right now. 
5. XRP (XRP)
Last on our list of low-risk cryptocurrencies is XRP – the industry's standard for processing cross-border transactions. XRP's price has struggled due to a securities fraud case between its developer, Ripple Labs, and theSecurities and Exchange Commission (SEC). Despite this, the asset has managed to deliver gains for investors.
February was a pretty impressive month for XRP, with the asset delivering a 24.2% gain throughout the month. The gains came as Ripple Labs won two major victories in its securities fraud case. Even worse for the SEC, Joseph Hall, one of its former policy directors, recently said on a podcast episode that the agency risks losing credibility in its claim against Ripple.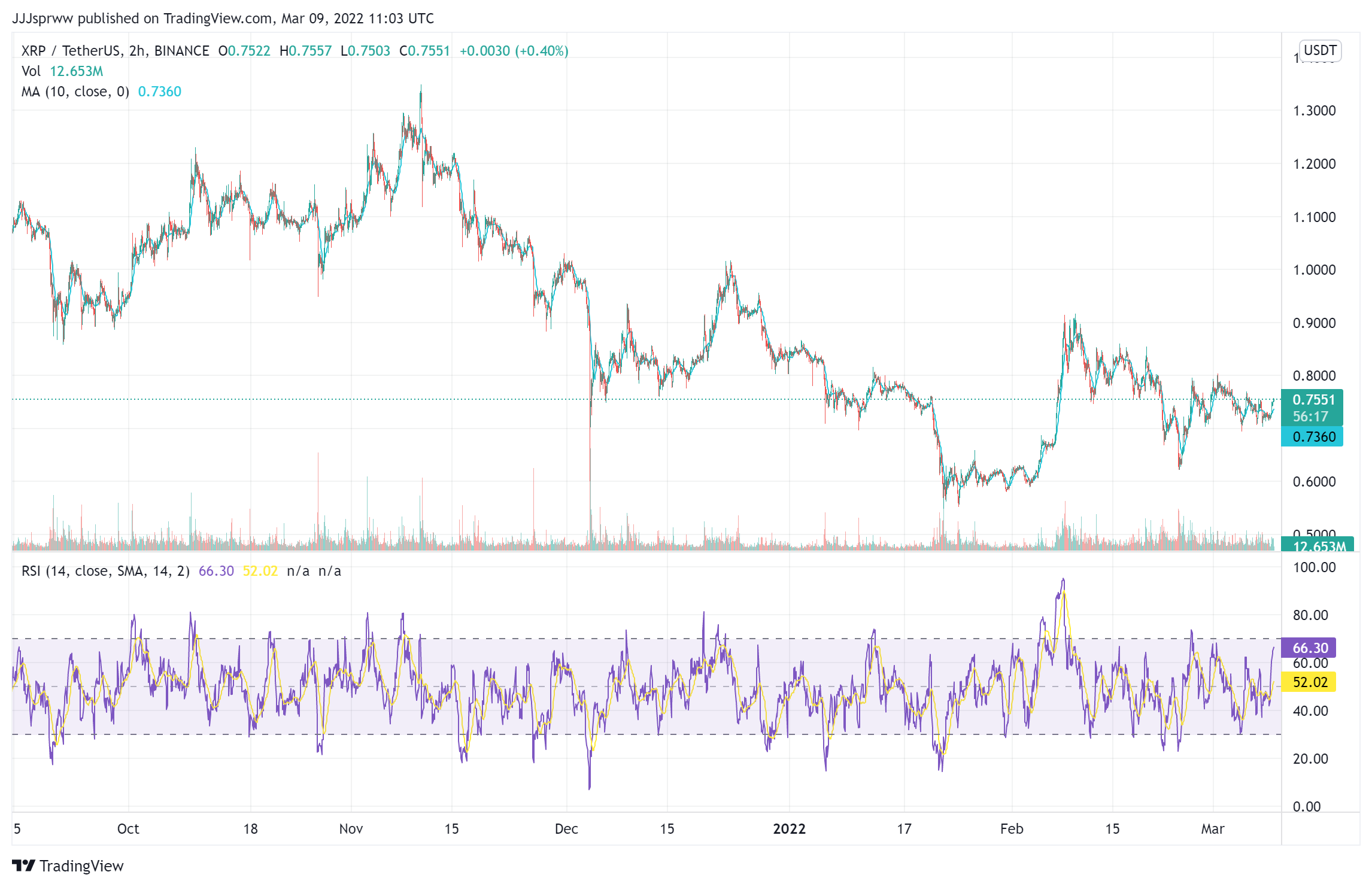 As the case drags on, there is more optimism from the crypto community that Ripple Labs will be able to eke out a win in this case.so, XRP has a lot of momentum going forward.
Read more: